I have found a friend in Jesus.
He's everything to me.
He's the fairest of
ten thousand to my soul.
The Lily of the Valley
in Him alone I see
All I need to cleanse and
make me fully whole.
In sorrow He's my comfort
in trouble He's my stay.
He tells me every care
on Him to roll.
He's the Lily of the Valley
the Bright and Morning Star.
He's the fairest of ten
thousand to my soul.
He will never, never leave me
nor yet forsake me here.
While I live by faith
and do His blessed will.
A wall of fire about me.
I've nothing now to fear.
With His manna
He my hungry soul shall fill.
Then sweeping up to glory to see His blessed face,
Where rivers of delight shall ever roll.
He's the Lily of the Valley
the Bright and Morning Star.
He's the fairest of
ten thousand to my soul.
Source: https://youtu.be/MhXW5QD8N1g
Psalm 92
A psalm. A song. For the Sabbath day.
Psalm 92 1-8
1 It is good to praise the Lord and make music to your name, O Most High,
2 Proclaiming your love in the morning and your faithfulness at night,
3 To the music of the ten-stringed lyre and the melody of the harp.
4 For you make me glad by your deeds, Lord; I sing for joy at what your hands have done.
5 How great are your works, Lord, how profound your thoughts!
6 Senseless people do not know, fools do not understand,
7 That though the wicked spring up like grass and all evildoers flourish, they will be destroyed forever.
8 But you, Lord, are forever exalted.
Psalm 92 9-15
9 For surely your enemies, Lord, surely your enemies will perish; all evildoers will be scattered.
10 You have exalted my horn[b] like that of a wild ox; fine oils have been poured on me.
11 My eyes have seen the defeat of my adversaries; my ears have heard the rout of my wicked foes.
12 The righteous will flourish like a palm tree, they will grow like a cedar of Lebanon;
13 Planted in the house of the Lord, they will flourish in the courts of our God.
14 They will still bear fruit in old age, they will stay fresh and green,
15 Proclaiming, "The Lord is upright; he is my Rock, and there is no wickedness in him."
Psalm 95 1-5
1 Come, let us sing for joy to the Lord; let us shout aloud to the Rock of our salvation.
2 Let us come before him with thanksgiving and extol him with music and song.
3 For the Lord is the great God, the great King above all gods.
4 In his hand are the depths of the earth, and the mountain peaks belong to him.
5 The sea is his, for he made it, and his hands formed the dry land.
Psalm 95 6-11
6 Come, let us bow down in worship, let us kneel before the Lord our Maker;
7 For he is our God and we are the people of his pasture, the flock under his care. Today, if only you would hear his voice,
8 "Do not harden your hearts as you did at Meribah,[a] as you did that day at Massah[b] in the wilderness,
9 Where your ancestors tested me; they tried me, though they had seen what I did.
10 For forty years I was angry with that generation; I said, «They are a people whose hearts go astray, and they have not known my ways.»
11 So I declared on oath in my anger, «They shall never enter my rest".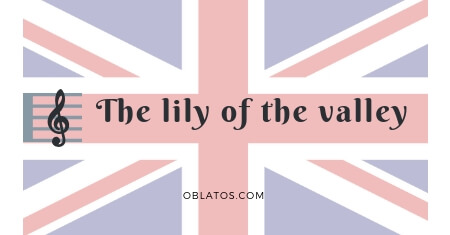 THE LILY OF THE VALLEY