PRAYER FOR SPIRITUAL HEALING (Father Emiliano Tardif)
Translation: Mei Ching Tung and Jorge Salazar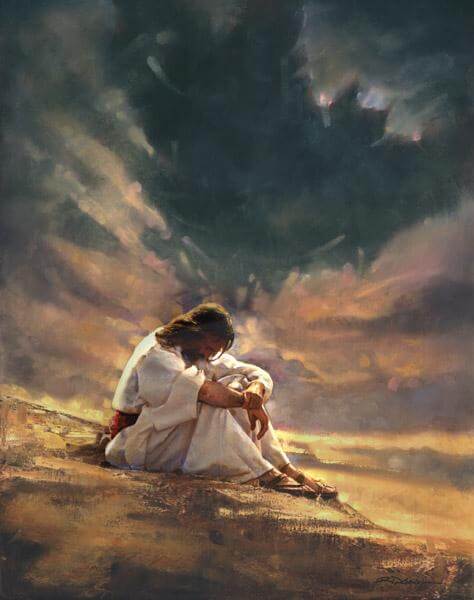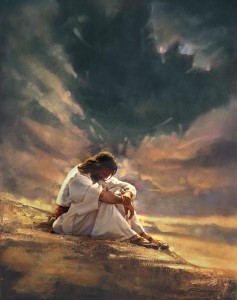 Father of kindness, I bless you and I praise you and I thank you.
Because for your love, you gave us your son Jesus,
thank you, father because in the light of the Spirit,
we understand that he is the light, the truth and the good shepherd that has come for us to have life and we have it in abundance.
Today, father, I want to introduce myself in front of you, like your son.
You know me by my name put your eyes of loving Father in my life.
Lord You know my heart and you know the wounds of my story
You know everything I've wanted to do and I have not done yet.
And You also know what I did or how they hurt me.
You know my limitations, my mistakes and my sins.
You know the traumas and complexes of my life.
Today, Father, I ask you for love that you have your son Jesus Christ.
You spill your holy spirit upon me, so that the warmth of your healing love penetrate in the most intimate part of my heart.
You heal the broken hearts and bandages the wounds.
Heal me here and now of my soul, my mind, my memory and all my interior.
Get into me Lord Jesus, how you got into that house where were your disciples
full of fear.
You appeared in their midst and told them:
«Peace to you»
Get into my heart and bring me your peace.
Fill me with your love, we know that love casts out fear.
Go through my life and heal my heart.
We know, Lord Jesus, that you do it whenever we ask and I'm asking you with Maria, my mother, the one who was at the weddings of Cana when there was no wine and you responded to her wish, transforming water into wine.
Change my heart and give me a generous heart, an affable heart, a kind heart.
Give me a new heart.
Let the fruit of your presence sprout upon me.
Give me the fruit of your Spirit that is love, peace, joy.
Make it come on me the Spirit of the Beatitudes, so I can savor and seek to God every day, living without complexes or traumas together with others, with my family, or next to my brothers.
Thank you, father, for what you are doing today in my life.
I thank you with all my heart because you heal me, because you liberate me, because you break the chains and you give me freedom.
Thank you, Lord Jesus, because I am the temple of your Spirit and that temple can not be destroyed because it is the house of God.
I thank you Holy Spirit for the faith, thank you for the love you have placed in my heart, how great you are, Lord God, Triune and One!
Blessed and praised, Lord.
MATTHEW 6
5 "And when you pray, you must not be like the hypocrites. For they love to stand and pray in the synagogues and at the street corners, that they may be seen by others. Truly, I say to you, they have received their reward.
6 But when you pray, go into your room and shut the door and pray to your Father who is in secret. And your Father who sees in secret will reward you.
7 "And when you pray, do not heap up empty phrases as the Gentiles do, for they think that they will be heard for their many words.
8 Do not be like them, for your Father knows what you need before you ask him.
9 Pray then like this:
"Our Father in heaven,
hallowed be your name.
10 Your kingdom come,
your will be done,
on earth as it is in heaven.
11 Give us this day our daily bread,
12 and forgive us our debts,
as we also have forgiven our debtors.
13 And lead us not into temptation,
but deliver us from evil.
14 For if you forgive others their trespasses, your heavenly Father will also forgive you,
15 but if you do not forgive others their trespasses, neither will your Father forgive your trespasses.
Fasting
16 "And when you fast, do not look gloomy like the hypocrites, for they disfigure their faces that their fasting may be seen by others. Truly, I say to you, they have received their reward.
17 But when you fast, anoint your head and wash your face,
18 that your fasting may not be seen by others but by your Father who is in secret. And your Father who sees in secret will reward you.
Lay Up Treasures in Heaven
19 "Do not lay up for yourselves treasures on earth, where moth and rust destroy and where thieves break in and steal,
20 but lay up for yourselves treasures in heaven, where neither moth nor rust destroys and where thieves do not break in and steal.
21 For where your treasure is, there your heart will be also.
22 "The eye is the lamp of the body. So, if your eye is healthy, your whole body will be full of light,
23 but if your eye is bad, your whole body will be full of darkness. If then the light in you is darkness, how great is the darkness!
24 "No one can serve two masters, for either he will hate the one and love the other, or he will be devoted to the one and despise the other. You cannot serve God and money.
Do Not Be Anxious
25 "Therefore I tell you, do not be anxious about your life, what you will eat or what you will drink, nor about your body, what you will put on. Is not life more than food, and the body more than clothing?
26 Look at the birds of the air: they neither sow nor reap nor gather into barns, and yet your heavenly Father feeds them. Are you not of more value than they?
27 And which of you by being anxious can add a single hour to his span of life?
28 And why are you anxious about clothing? Consider the lilies of the field, how they grow: they neither toil nor spin,
29 yet I tell you, even Solomon in all his glory was not arrayed like one of these.
30 But if God so clothes the grass of the field, which today is alive and tomorrow is thrown into the oven, will he not much more clothe you, O you of little faith?
31 Therefore do not be anxious, saying, 'What shall we eat?' or 'What shall we drink?' or 'What shall we wear?'
32 For the Gentiles seek after all these things, and your heavenly Father knows that you need them all. 33 But seek first the kingdom of God and his righteousness, and all these things will be added to you.
34 "Therefore do not be anxious about tomorrow, for tomorrow will be anxious for itself. Sufficient for the day is its own trouble.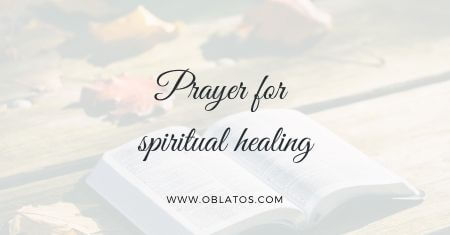 PRAYER FOR SPIRITUAL HEALING